Fundraising and Special Events
Dunedin North Rotary Cornhole Tournament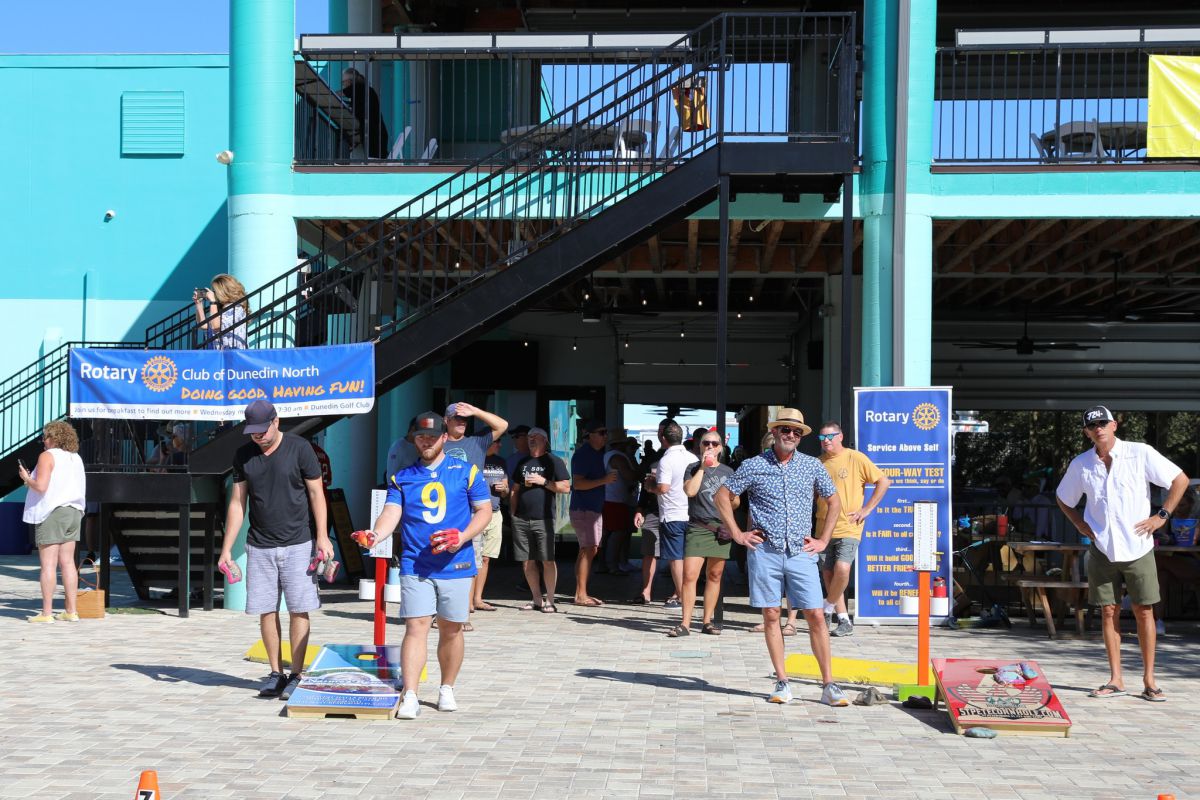 The Rotary Club of Dunedin North (FL) held a cornhole tournament on Oct. 30th and raised more than $2,000 for CART!
Thank you to all the participants, sponsors and attendees for helping us #EndALZ!
St Petersburg Rotary Golf Tournament - Dec 9
Join St Petersburg (FL) Rotary for a golf tournament to benefit CART on Friday, Dec 9, at Cove Cay Golf Club in Clearwater.
Tournament Format: Four Player Team Scramble
Entry fee $150 per person Includes: Golf Fees, Lunch 3 Beverage Tickets, Awards and Prizes with hors d'oeuvre
10:30-11:30am Registration
11:45am Cart Call & Announcement
12 noon Shot Gun Start
4pm hors d'oeuvre, Awards and Prizes
For questions call or text Sherri Crouse: 304-416-2097
Clemson Sunrise Rotary Trivia Night
The Rotary Club of Clemson Sunrise
sponsored a local "trivia night" fundraiser on Nov. 1 for CART, raising more than $2,000!
The event was held at 356 Sushi & Martini Bar in downtown Clemson with 22 teams participating, including Interactors and Clemson University Student Government members.
Ales For Alzheimers - Greenwood, SC - Nov. 19
In honor of Alzheimer's Awareness Month, the Emerald City Rotary Club will host Ales for Alzheimer's at
Good Times Brewing
on Saturday, Nov. 19th.
'
Good Times is located at 237 Maxwell Ave in Greenwood, SC.
$1.00 from every glass of beer and wine sold will be donated to The CART Fund.
More information on the event can be found here.
This is the second event sponsored by Emerald City Rotary! One was held in September at Flynn's on Maxwell Uptown Wine & Beer that raised nearly $500!
CARS For CART Raffle
Rotary District 7730 (Eastern North Carolina) is sponsoring a "Cars for CART" raffle. Tickets are $100 each and the winner will select from a 3-year lease on a new hybrid car OR $20,000 in cash!
A limited number of tickets are available, and all funds raised will be donated to TRAC to support administrative and program costs.
For more information or to purchase a ticket, scan the QR code or contact Norm Rogers at
normrogers@atmc.net
.
CART Walk - Lancaster, SC
The Lancaster Breakfast Rotary Club held a CART Walk recently and raised $724 to help end Alzheimer's. Members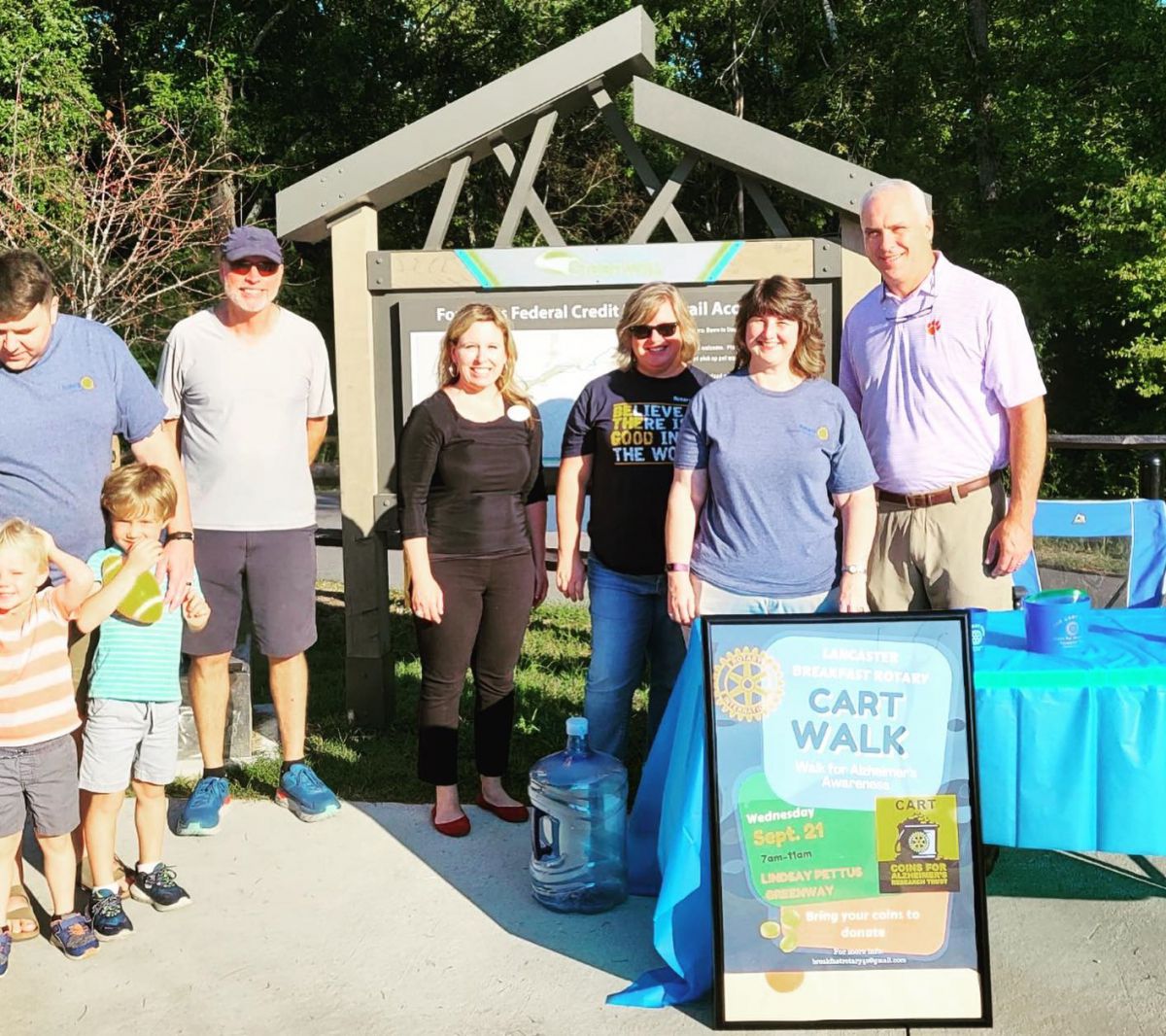 and family members of all ages participated in the event at Lindsey Pettus Greenway.
Celebrate Community - Murphy, NC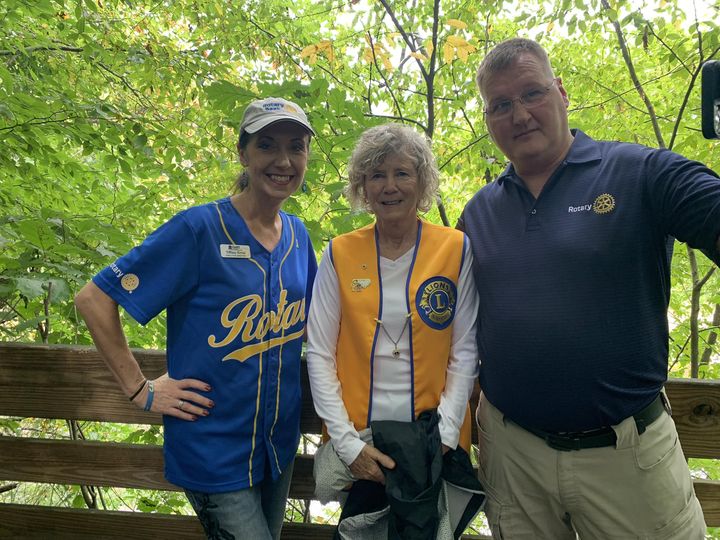 The Rotary Club of Murphy partnered with the Lions Club of Murphy to recognize "Celebrate Community Week" by hosting a fundraiser for CART. The "Freedom from Alzheimer's Walk" raised more than $1,000 dollars by members of both organizations and the local community.
Celebrate Community was a worldwide effort supported by Rotary International, Lions International, Kiwanis International and Optimist International.
Greenville City Center Rotary Cruise-In
Great fun and fellowship was held at a recent "cruise-in" sponsored by the Rotary Club of Greenville City Center to support CART. Over $300 was raised by those voting on their favorite cars on display.
The Challenger pictured here was one of the winners! Thank you Rotarians for your support of CART!
Ales For Alzheimers - Clover, SC
Members of the Clover Rotary Club hosted the 2nd Annual Ales for Alzheimer's to raise important funds for CART. There were "little blue buckets" to collect cash as well as a silent auction and great raffle prizes!
Asheville Biltmore Rotary Walkathon
A recent "Walkathon" (a relay using two side by side treadmills) by the
Rotary Club of Asheville Biltmore
raised more than $79,000! The club presented a check for $38,995.24 to #TheCARTFund - the largest donation ever by a single club in Rotary District 7670!
Almost 100 walkers took part – the baton was passed from one walker to the next with no break in the action over 24 hours. The local community responded with generous donations in-kind and cash from local businesses, and the club covered all costs so 100% of donations went to the causes (CART and Memory Care-a world-class facility located in Asheville).